Future Target
Early achievement of individual relief to victims
The number of infected victims by mass vaccination is estimated to be about 450,000 (estimate by the government at the time of basic agreement). However, the number of appealers at the present time is only about 10,000 people. The reason for this is that since the fact of the infection damaged by this group vaccination and the relief system are publicized insufficient, people do not know if they are victims of hepatitis B virus infection of mass vaccination or not. There are still many victims who do not know the facts. Our lawyers, along with the plaintiff group, seek to the government, local governments and medical institutions throughout the country to promptly inform these things and we are also doing damage consultations.
In addition, our defense team continues to hold practical consultations with the government as a defense group of the party who have concluded a basic agreement with the government that sets out this relief procedure etc. There are discussions on the requirements for accreditation of settlements and the interpretation and application of necessary materials, so that victims can receive individual relief widely and at an early stage.
For consultation of individual relief, please contact us nationwide counselor (Lawyer group stated in "consultation place in each place (Japanese)").
Work for permanent measures
In June 2011, a "basic agreement" was concluded between the country's national hepatitis B lawsuit plaintiffs and counsel and the country, and based on that, in December of the same year, "Special Measures Law concerning Payment of the benefits to specific hepatitis B virus infection"was enacted. However, it can only relieve those who can have the requirement, and it is only some numbers of all patients with viral hepatitis.
Also, even if a settlement is concluded, even if the settlement money is obtained, the damage will not go away. The deterioration of future symptoms, the burden of treatment costs, and the damage caused by prejudice discrimination and anxiety about these will not go away.
For this reason, our nationwide hepatitis B litigation counsel dose not aimed only to reconcile with the government and receive settlement money. We are seeking to realize a society where all patients with viral hepatitis can live with peace of mind, working with the plaintiffs.

We call such activities "work for permanent measures".

In the basic agreement, the government promises that "government (Ministry of Health, Labor and Welfare) is engaged in enlightenment and public relations so that hepatitis patients including this infected victim can live with peace of mind without being subjected to unfair prejudice and discrimination. We will continue to work to further take necessary measures such as promotion of hepatitis medicine supply system, promotion of research on hepatitis medicine, subsidization of medical expenses etc."

In order to realize the purpose of permanent measures, we have won the opportunity to consult with the government (see the "Basic Agreement"), and every year we have talks to establish a better hepatitis control system with the Minister of Health, Labor and Welfare.

The permanent measure activity has just started. In order to make the world where all hepatitis patients can live with peace of mind, we must combine your power. Let's work together.


Current medical subsidies are limited to certain antiviral therapies such as interferon treatment and nucleic acid analog preparation treatment. Although treatment costs for patients with liver cirrhosis and liver cancer that do not fall under these treatments are extremely high, they are not eligible for subsidy.
We are engaged in petition activities in various places seeking a medical expenses subsidy system for patients with liver cirrhosis and liver cancer.
We appreciate your understanding and cooperation. -> We appreciate your understanding and cooperation.
Activity for Investigation of the truth and recurrence prevention
The gist and course of establishment of a third-party committee
The basic agreement concluded on June 28, 2011, has this sentence. "The government has decided to make investigation of the truth and the verification of the damage caused to hepatitis B virus by continuous use of syringes etc. for collective immunization etc. by a third-party organization. We will also make the best efforts to implement measures to prevent recurrence."
Following this basic agreement, the Study Group on Verification of Infection of Hepatitis B Infection and Prevention of Recurrence by Group Immunization etc. started on May 31, 2012.
This committee consists of 20 members, consisting of medical experts, lawyers, medical officials, representatives of health centers, representatives of phytotoxic injury organizations, board members for immunization injuries, and representatives of Japan Hepatitis Council. Then, two members were elected from the plaintiff group and one member from the lawyers' group.
As a way to proceed, the examination commission is to formulate the verification items at the study meeting, investigate and study the items to be verified at the "research team" set up under the study meeting, raise the research results to the study meeting again, We will make a recommendation such as prevention of recurrence by investigating the truth of it.
In addition, the two members participating from the plaintiff group also serve as research members.
The agenda of the committee
For the verification items, the following six points are considered. For details, please refer to MHLW's website (Japanese) (http://www.mhlw.go.jp/stf/shingi/2r9852000000ahdf.html#shingi19).
Actual condition of vaccination etc. (Change on time axis)
Actual state of infection and spread of infection of hepatitis B virus in Japan (transition on time axis)
Medical findings on hepatitis B and its perception of related organizations (transition on time axis)


* Affiliated organizations and the like mean the country (including National Institute of Infectious Diseases), local governments, related academic societies, vaccinated workers, medical personnel, etc.

Grasping and responding to the occurrence of hepatitis B infection caused by mass vaccination etc. (transition on time axis)
Actual state of infection prevention measures associated with vaccination system and vaccination in foreign countries (transition on time axis)
Consideration for formulating recurrence prevention measures
The role of plaintiffs and defense teams
We are actively involved in the above study groups and research teams to achieve deeper verification and prevent recurrence of damage such as the spread of hepatitis B infection.
The spread of hepatitis B infection caused by mass vaccination is an unprecedented incident that has caused tremendous damage to more than 400,000 victims. The reason why this happened is a common question for all victims of infection. We will endeavor not to end up with superficial verification.
May 31, 2012-June 18, 2013
The Ministry of Health, Labor and Welfare held a study meeting on the verification of the spread of hepatitis B infection by mass vaccination and the prevention of recurrence.
"Recommendations" and "Research Group Report" can be found on the following website of the Ministry of Health, Labor and Welfare under "Study Group Recommendations and Future Initiatives" and "Research Group Report".
-> Click here for "Proposal" and "Research Group Report" (Japanese)
Aiming for safe and secure dental care
In May 2014, a newspaper reported that approximately 70% of dentists did not replace (sterilize) handpieces (drill handles) for each patient. Soon the government called for enlightenment of infection control in the dentists.
It is no longer allowed for new infection damage to be caused by continuous use of medical equipment.
In 2016, we asked for a survey of the actual conditions in the dental practice, and even in the results published in 2017, only 52% of handpieces were exchanged for each patient. We requested 100% of those would be exchanged.

Starting in Fiscal Year 2018, replacement of medical equipment for each patient (sterilization) had been not a condition of special addition but a requirement under basic medical fees. It means that to insurance dentists standard precaution measures should be implemented uniformly regardless of whether the patient is infected or not. We think standard precaution was accepted as a rule in the care by dentists.
In the future, we will still continue activities to monitor the implementation status on site.
Activities to raise awareness, disseminate knowledge and human rights respect
As a result of government actions (that is, not responding adequately to the use of syringes in mass vaccinations), many people lost lives and suffered from illness with anxiety for future. They also got prejudice and discrimination. There were a lot of damage, including financial burden. These suffering still now continue.
We do not want those things occur again and want everyone let to know about those damage and want those lessons to be used to create a society without prejudice and discrimination.
We are doing activities such as (1) encouragement to the government and (2) patient lectures in order to make people know about their thoughts and sufferings and to eliminate prejudice and discrimination.
Here, we will introduce these activities.
Encouragement to the country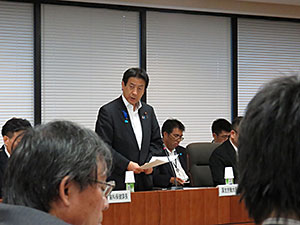 The national government promised in its "Basic Agreement" with the plaintiffs and defense teams of the national hepatitis B lawsuit that government would commit to public relations "hepatitis patients, including victims of infection, etc. not to be suffered from unjustified prejudice or discriminations. In order to proceed these actions properly, we hold discussions with the Minister of Health, Labor and Welfare, the Ministry of Health, Labor and Welfare and the Ministry of Education, Culture, Sports, Science and Technology every year.
For example, in a regular discussion with the Minister of Health, Labor and Welfare in 2016, we received a response from the minister that the significance of learning the hepatitis B problem as a lesson is significant and will be considered positively. This is a big step.
Patient lectures
Patient lectures are: "Those activities that patients and families with hepatitis B talk about their experiences and make people to know about hepatitis B disease and mistakes of past government actions, and by doing those, to eliminate prejudice and discrimination, and to avoid repeating the same mistakes. We think it is important that patients and bereaved family themselves tell their sufferings by their own voices.
Since 2014, we have conducted patient lectures at various universities, vocational schools, high schools and junior high schools.
The actual number of patient lectures is about 270 at educational institutions and the number of participants is about 30,000 (as of the end of March 2019).

->Click here for details on the results of patient lectures (Japanese)

Many patients and families do not talk about illness. This is because there is anxiety that they will face prejudice or discrimination when they convey illness.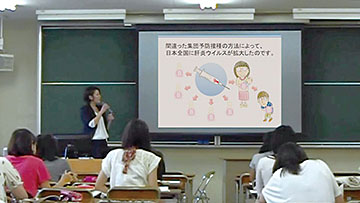 Impressions of students, pupils, and children who received patient lectures
Here are just a few of the many voices impressed by the lecture.
It was nice to know the patient's thoughts.
When I listened to the actual patient's story, I cried that I had a really hard time.
I was very sorry to hear that there were people who discriminated against. I vowed never to do that.
When meeting or interacting with a patient, I would like to respond in the same way as a normal person.
In the future, when I become a nurse, I think it is important to have correct knowledge as well as mental care for patients.
I think they shouldn't increase the number of sick people to save money by using same syringe.
I would like to see a drug that can heal hepatitis B.